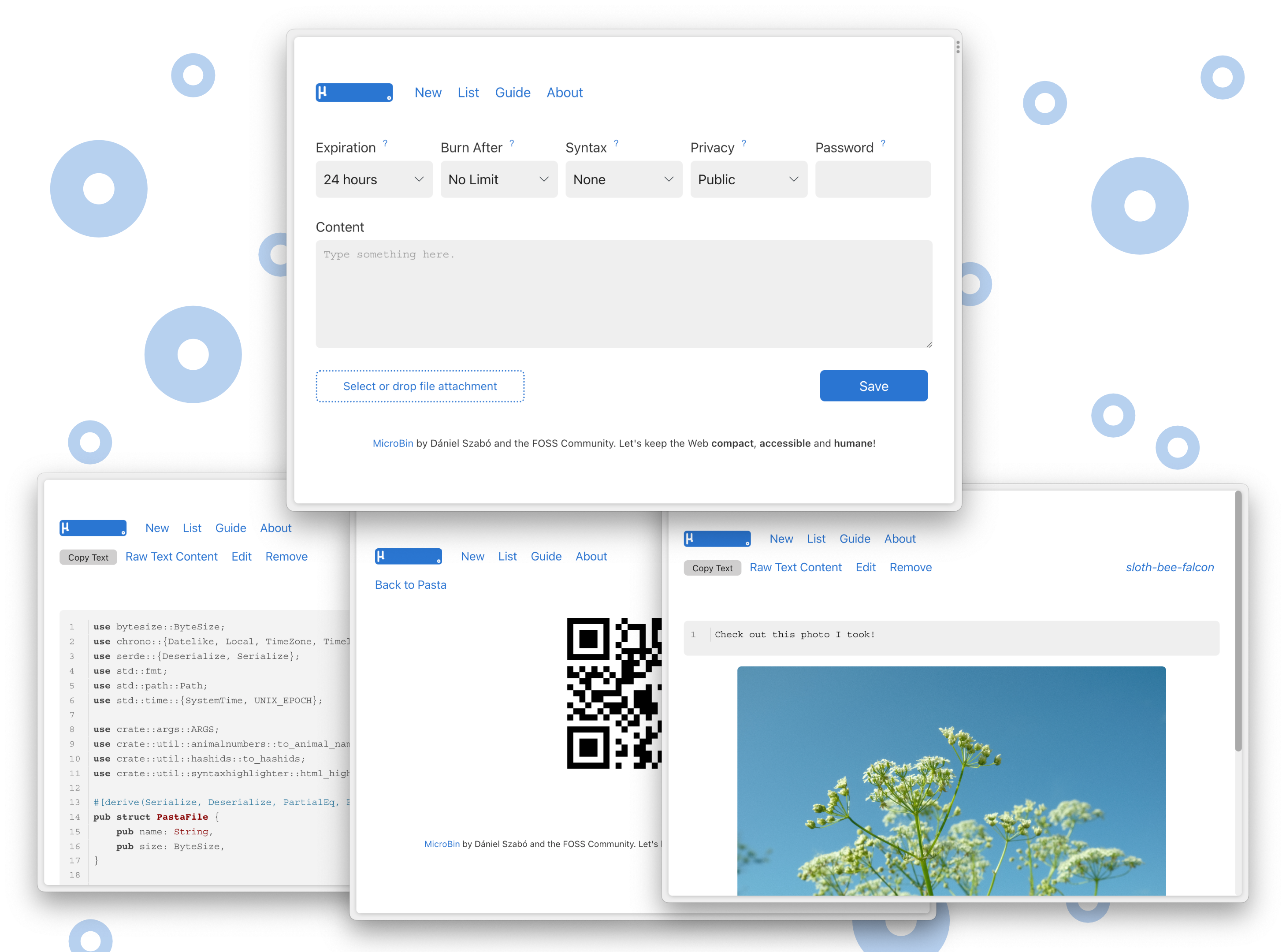 MicroBin v2 is now available 🎉
MicroBin v2 is finally released 8 months after v1.2.1 and 15 months after the initial commit. It implements all of the most requested features requested by the users and elevates MicroBin to a whole new level. With lots of new features come an overwhelming amount of configuration options, so there is a standardised Docker installation method and default .env file available for your convenience.
I am proud that MicroBin now contributes to a world-wide effort towards making privacy accessible and easy, and I hope v2 will help it towards becoming the secure self-hosted file-sharing solution. Development does not stop here though, GitHub issues are already lining up for v2.1, so I invite you try MicroBin if you have not already, and share your wishes with me so I can improve it further.
- Daniel
Main Changes​
Server-side and client-side encryption for uploads, including file attachments,
SQLite database (instead of JSON file) by default,
Reworked upload settings: 5 privacy levels,
New administrator console (/admin),
Automatic syntax highlighting,
Image and video embedding,
Refreshed styling and QoL features,
New user guide page,
Enabled HTML embedding for footer,
Added file upload size limits,
Added uploader password for read-only mode
Added sample .env file with description for each environmental variable,
Removed Info page (moved to admin page),
Telemetry added (only configuration reporting, to help prioritise features, opt out in .env)
Update checking added (on admin page, togglable with .env)
Upload list now sorted from newer to older,
Pasta terminology replaced with Upload(/pasta -> /upload, /pastalist -> /list),
Files are now served with a proper service, not just as a public directory,
Added option to show up on the MicroBin server list (opt in in .env, list page coming soon),
Lots and lots of bugs fixed
Full Changelog: https://github.com/szabodanika/microbin/compare/v1.2.1...v2.0.4
Public Server​
I have set up a public MicroBin server at https://pub.microbin.eu. This will be available for as long as my Raspberry Pi 4 can handle the traffic. A public server browser is also coming soon.
Try MicroBin v2.0.4​
Run our quick docker setup script (DockerHub):
bash

 

<

(

curl

 -s https://microbin.eu/docker.sh

)



Or install it manually from Cargo:
cargo 

install

 microbin

;




curl

 -L -O https://raw.githubusercontent.com/szabodanika/microbin/master/.env

;




source

 .env

;




microbin



Contributors​
Thank you to all of the contributors: @hay-kot, @figsoda, @dvdsk, @HeapUnderfl0w, @uniqueNullptr2, @Arizard, @egor-tensin, @frap129, @rissson, @techiall, @foxidokun, @mooons, @7a6163, @DhruvaSambrani, @Tyfui90, @jchia, @alex3305, @albocc, @kwiniarski97, @henri40408, @stavros-k, @frdmn, @arghyadipchak, @amnesiacsardine.
Also massive thank you to MicroBin's first sponsors: Erik, Radovan Blažek, Michael and luxus!